SharePoint Recovery Tool – Works in Almost All Cases
SharePoint recovery software aid you repair SharePoint database in almost all corruption cases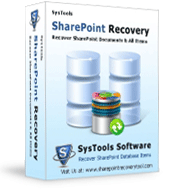 Microsoft Office SharePoint Server (MOSS) is an integrated suit of products and software elements. MOSS is a shared portal application which is based on Windows SharePoint Services (WSS) platform. This application is mostly used to host websites that access joint or shared workspace, documents, content database, lists, and document libraries etc. The information is saved in MS SQL Server (MDF) database files.
How to Repair Corruptions? Corruptions in computer applications are common scenarios from which there is no escaping till date. But, there are recovery options available now.
If yourdatabase corrupts, then use third-party software tool to recover SharePoint documents and other items is a viable option. One such SharePoint document recovery tool perform database recovery process in an easiest way.
Demo of SharePoint Recovery Tool (See and Evaluate)
You can see how the software performs by downloading the Demo version of this recovery software.
Supported SharePoint Servers – 2003, 2007
Supported OS – 2000/XP/2003/Vista/Windows 7
You can see the recovered items as the Demo version provides the Preview options but restricts the file saving option. You can see the recoverable items but cannot save them to your system. For saving the entire database. you need to purchase full version of this software
Perfect Recovery Tool – Recovers in Almost All Corruption Cases: Perform database repair task after MDF corruption caused due to reasons:
Virus attack or Trojan infection
Copying/accessing MDF files while database is running
Disk space does not free when SQL Server database is working
Incorrect String to multi-client database with users
Deletion of Log file or database in "suspected" mode
Abnormal shutting down of the system (can be due to power failure) etc.

In any of these or other scenarios of database corruption, Our application can perform SharePoint database recovery easily. The software enables Database Administrators (DBAs) to recover documents, sites, files and other elements from damaged/corrupted content databases.
Using this software, you can
Recover SharePoint 2007 data
Restore content database
Restore and recover site which were erased
Repair Search
Execute SharePoint file recovery

Other Benefits
Recover data in exact form as in the original from corrupted files.
Perform get back data with almost all contents from corrupt database.
Easily recover SharePoint database contents using this tool as the software's interface is very user-friendly.
Retrieve the entire information stored in databases – permissions, metadata, custom views, alerts, workflow state & associations, Web part links etc.
Software locate and preview any item inside multiple database backups before restoring. This helps in recovering whatever you wish.
Full Version License – Buy Now (Price Starting at
$129

)

Restore site, search, documents, files, content database etc completely with the help of SharePoint restore tool. You can recover the content and save the recovered items to your system using the Full version license. You can obtain the Full License for $129 only.